These photos are from two private meet & greet parties that were arranged by some very special friends at Disneyland. The princess party was held in a small, private room at City Hall. Due to the small size of the room, just Maggie, Angie, Mom, Dad, Grandma and Grandpa were able to attend. One or two princesses came at a time, and they had Maggie close her eyes between visitors to be surprised by the next one.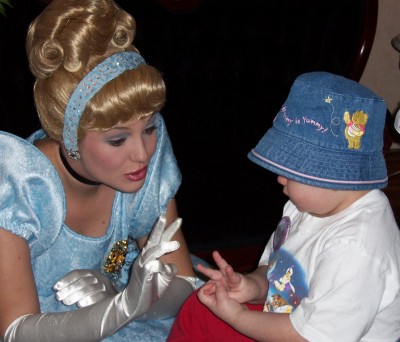 Maggie telling Cinderella how old she is. See... three!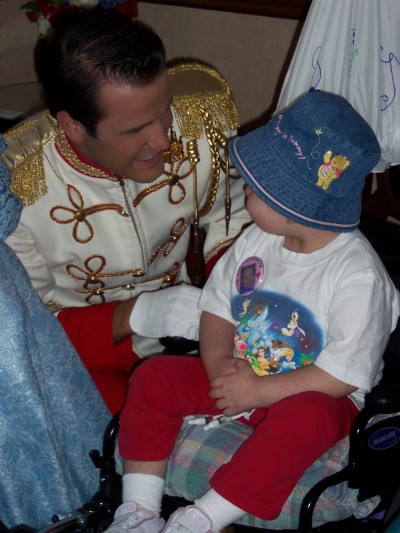 What a handsome Prince Charming. Prince Charming made Papa Potato's day when he said Grandpa was charming too.
What a Charming Family! Big smiles - what a way to kick off the trip!
Next up was Snow White and Belle. Snow White really won Maggie's heart during their visit.
Snow White displaying the perfect princess smile.
Snow White teaching Maggie May the perfect princess smile.
Rick was feeling pretty darn good being surrounded by five beautiful princesses!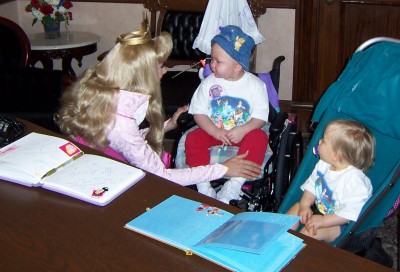 Princess Aurora (Sleeping Beauty) is Maggie's favorite. She brought Maggie a Sleeping Beauty doll that was a big hit.
Each of the princesses treated Maggie like royalty. They were so sincere, gentle, sweet and loving. Everything a true princess should be.
Big Smiles From The Two Beautiful Princesses!
I'm not sure who is happier here - Maggie May or Beth. Beth looks just giddy with excitement! The trip was a big burst of sunshine and happiness for everyone.
Then it was off to a private party with Mickey and the gang. All 17 of us were able to join in the fun. Each and every one of us was treated just as beautifully as Maggie. It was a very special time that none of us will ever forget. As you can see, Maggie was the center of attention.
Mickey, Goofy and Pluto spent a lot of time on the floor, hugging, talking and playing with Maggie.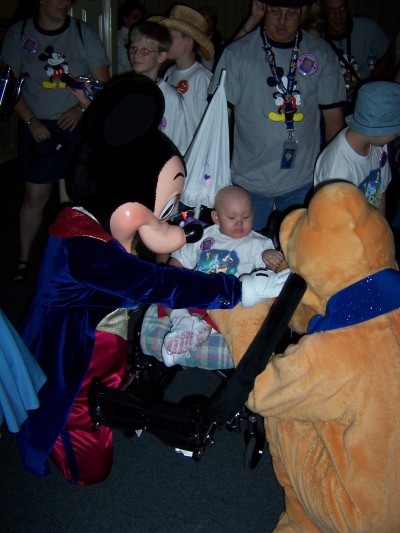 Oh yeah... she's the star!
Alice makes Princess Kate feel right at home. It was amazing how kind each character was to each of the guests in our party. Each child left feeling like a million bucks!
Little Angelina is our Princess in Training. She was afraid of the characters who had costumes covering their faces, but she did warm up to Peter Pan, Wendy and Alice who looked human to her.
Mad Hatter serving a spot of tea to Mickey and Maggie.
Everyone took part in the Mad Hatter's tea. Papa Potato even filled his hat with the tea so he would have some a bit later in the day. Perhaps one of the best jokes was offering a little tea to Papa Potato and placing a small foam "t" in his hat for later... ha, ha!
Now, if you have known Beth and the Tretts for very long, you know that Tweedle Dee and Tweedle Dum are definitely in our Family Tree! We felt right at home with these two.
You thought I was kidding when I said entourage, but we truly were. Ali asked me today what's an entourage - It's a big group of people who are following around a really cool star I told her!