Angelina and Maggie having a little playtime in their hotel room.
Ahhh... sisterly love!
The sea lions at the beach!
Best friends watching TV together.
Making cookies with cousin Kristina. Mmm... good!
Dancing to Rod Stewar with Daddy.
Come on Aunt Becky, shake it!
Enjoying a popsicle at Disneyland!
Mmmm... more ice cream in Disneyland.
Miss Maggie enjoyed ice cream everyday in Disneyland! You just can't get enough of the good stuff!
Chinese noodles anyone? Who needs a table? Or chopsticks?
Katy and Maggie making paper plate masks with Grandma.
Maybe this should be Grandma's Halloween costume....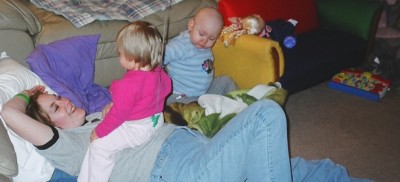 The three royal princesses having some playtime!
Two sisters who love each other so much!
Big kisses for two little girls!
Angelina can't get enough of her big sister's love.